CALLANDER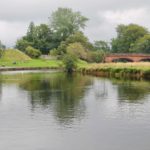 First stop in the beautiful town of
Callander to pick up supplies. This busy tourist town offers plenty of coffee shops, eateries, outdoor clothing shops and is surrounded by gorgeous scenery. Only 30mins drive from Fintry, it is well worth a visit on your first or last day. If you are arriving late in the day, the supermarket is open until 10pm and check out your Brit Stops guide (free with the campervan hire) for places to stay in the area.

LOCH LUBNAIG
Continuing north from there, we passed the Kilmahog Woollen Mill with friendly Highland coos nodding their heads in greeting. A little further and kayakers can be seen testing their skills on the Falls of Leny. Loch Lubnaig provides spectacular views and a rest stop of overnight parking at the cabin may suit late arrivals. As it is situated in Loch Lomond & Trossachs national park, a permit is required March to October. Costing £7pppn, they provide toilet facilities, chemical waste disposal and have a café on site. More information can be found at www.thecabinatlochlubnaig.co.uk.
LOCH EARN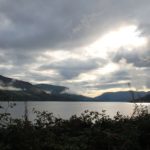 A cheaper alternative can be found a further 20mins drive on the north side of Loch Earn. Passing Balquhidder Parish Church which boasts the resting place for Scottish folk hero Rob Roy and his family. Loch Earn has ample, discreet, off road parking with impressive views across the Loch and permits can be bought online for £3 per van: www.lochlomond-trossachs.org/things-to-do/camping/get-a-permit/ . Some good eateries can be found both in Lochearnhead and St. Fillans, and the locals will give you a warm welcome and some fine ales to settle into your first night.
A further 5mins drive beyond Lochearnhead, on the road to Crainlarich, pops you out of the restrictive Lomond & Trossachs Camping Management area, and you can park overnight for free at any parking place.
GLENCOE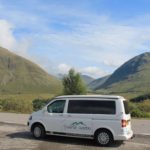 The following day we headed in the direction of Fort William via Crainlarich. It is difficult to avoid this route when touring Scotland, even on a short road trip. And who would want to?! Glencoe mountain range offers magnificent views all year round of the peaks of Buachaille Etive Beag and Buachaile Etive Mor (the Little and the Large) and valleys over Rannoch Moor. There are a range of spectacular walks in the area from mild ambles along rivers, to challenging climbs to the summits, taking in fantastic waterfalls and vistas as you go. More information on walking routes, including grades, times and distances, can be found here: www.walkhighlands.co.uk/fortwilliam/glencoe.shtml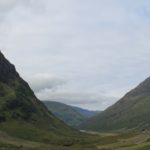 GlenCoe Mountain Resort offers a variety of summer and winter activities and overnight parking with facilities for £15 per van per night. It is recommended to book in advance as spaces are limited and fill up quickly. Waking up to these astounding views is a popular option. See more at: www.glencoemountain.co.uk .
ARDNAMURCHAN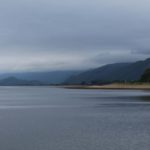 As the crowds were beginning to be a bit overwhelming, we decided to travel the lesser-known route of the Ardnamurchan peninsula. Located south of the Isle of Skye, it offers views looking back at the Cuillin Mountain range and the Old man of Storr. Taking the Corran Ferry, 9 miles south of Fort William, is the easiest and quickest route to the peninsula. The ferries are every 30 mins and cost £8.30 per van. All Campsie Campers van are appropriate height and length to be classified as a car on this ferry. For ferry information on all west coast routes see: www.calmac.co.uk . The ferry crossing is 15mins and allows great views both north and south of Loch Linnhe with the Corran lighthouse and stunning backdrop welcoming you to the peninsula.
KILCHOAN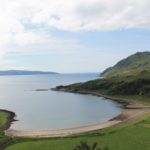 The peninsula offers spectacular white sand beaches, abundant trout fishing (permit required) and beautiful, wild, unspoiled scenery. A 2-hour drive on quiet, single-track roads takes you to the most westerly point in mainland Scotland. Ensure you have checked your Brit Stops guide before setting off, as we made the mistake of travelling too far and missed out on a fine overnight free stop in the area. Perhaps a stop at Ardnamurchan Distillery for a tour and a tipple will be interesting?Although a fairly recent distillery (2014), it is set in lush green surroundings and is making concerted efforts to be eco-friendly whilst maintaining quality vintage whisky. www.adelphidistillery.com/index-gate.php#welcome Kilchoan provides the only pub and restaurant on the western peninsula and a welcome rest break after a scenic drive.
SANNA BAY
A further 5 miles will land you at the stunning white sand Sanna Bay. Allow time for short strolls in the area to stretch your legs. The Ardnamurchan Lighthouse boasts views south to the Inner Hebrides and north to the Isle of Skye.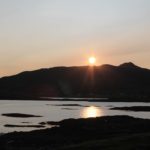 Stay overnight locally at a choice of 2 campsites or find a west-facing park along the remote roads to watch the sun set over the hills. If you have time, a marine tour to the Isle of Staffa and the famous Fingal's cave would be worth considering. You may be fortunate enough to see whales, dolphins, basking sharks, eagle-rays and more, typically from May to September. Visit www.staffatours.com for more information and to book.
CUILLIN MOUNTAINS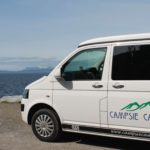 For our final night we set off early in the direction of Fort William. Driving through forests and across moorland with views toward the Cuillin Mountain range providing a lovely morning drive before joining the busier tourist routes again.
ARISAIG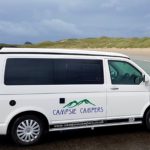 The white sands and pristine blue-turquiose waters of Arisaig, Morar and Camusdarach are typical of Scotland's west coast with the latter a famous filming location for the inspiring Local Hero (1983). Hopefully, weather permitting, you will get to see a blanket of stars from the vantage points in the area and if your lucky, the northern lights.
GLENFINNAN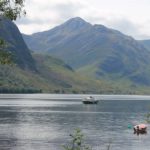 It takes around 4 hours to get back to our Campsie Campers depot so we set off early, ensuring time to take in the sights of Glenfinnan, famous for the Harry Potter (Hogwarts Express) steam train travelling over the viaduct with the charming village tucked below. For more history, visit the Glenfinnan monument in ode to the struggles of the Jacobite clansmen and historical figure, Bonnie Prince Charlie. The scenic route back through Glencoe with a stop to fill up with petrol and clean the van finished off our mini trip delightfully.