Contents
Stirling
Fintry
Shopping
Diesel
Callander
Loch Lomond

Stirling
Stirling is an ideal town to travel to for your campervan journey. It is around 25mins drive to Fintry and we offer transfers for as little as £20 for up to 4ppl. Stirling has so much history, it really is the perfect place for those wishing to experience Scotland from the word 'Go!'.
Getting there
Campsie Campers offers transfers from Airports and Train stations directly to Fintry. For information on prices and journey times, please see our Getting Here page.
From Edinburgh Airport you can get a tram to Waverly or Haymarket train stations for £6pp. Waverly is more central if you want to see the city first but both train stations have trains to Stirling with Train tickets costing from £9.10pp and running every 30mins.
From Glasgow Airport you can get the Airport Express bus to Buchanan Street Station with tickets costing £8pp. From here you can walk 5 mins to Queen Street Train Station and get a train to Stirling. Train tickets cost from £8.50 and run every 10-20 mins.
What to see and do
Oftent referred to as the Heart of Scotland, Stirling is a scenic town which holds so much history. Historically uniting the Highlanders and Lowlanders in famous battles against the English. It is nestled in the foothills of the Ochils and is a really fascinating area to explore.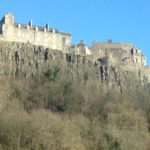 Stirling Castle sits prominently on the hill overlooking this ancient town. It is easy walking from the Old Town centre to the castle for outstanding views in every direction. This must-see visitor attraction was home to Scottish Royalty. As a throwback to its original construction, the Great Hall renovation used lime wash which gives it a distinctive yellow colour. This mirrors the bling appeal it would have had when housing the king. It separates it from the rest of the castle whose stone has aged over hundreds of years to grey. You can decide for yourself if you like it. Some areas are staged, displaying rich tapestries such as Scotland's national animal, the Unicorn. You can explore the kitchens and all the original buildings on offer in this court. Tickets cost from £15pp.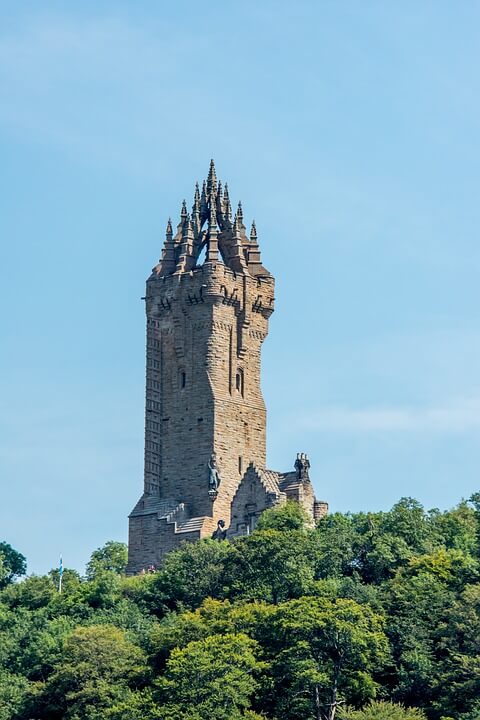 Wallace Monument pays homage to the national hero William Wallace, depicted famously in the film Braveheart. This film brought such a spotlight to this tourist attraction that in 1998 they displayed a carving of 'William Wallace' which looked exactly like Mel Gibson! The statue moved to a new home in 2008 after much controversy. The solitary tower looms over the historic town from the hill of Abbey Craig. A spiral staircase, with nearly 250 steps takes you to the top of this iconic landmark. There are 3 galleries on the way up, displaying weapons and information on the story of the real William Wallace. Celebrating its 150 th anniversary this year (2019), it is currently closed for refurbishment, due to open in late April. Tickets cost from £10.50pp.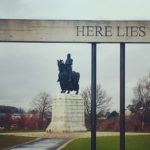 The Battle of Bannockburn took place on the edge of town and is the site of the victorious battle lead by Robert the Bruce in 1314. This battle was one of many fought in the Wars of Independence between the Scottish and English armies in 13 th and 14 th centuries. The land around it remains similar and there is a rotunda and statue in tribute to those who fought and died there. Viewing the area is free and the visitors centre offers a 3D-experience of the battle for £11.50pp.
Hidden Gem: Behind the University, following Old Sheriffmuir Road, there is a hill that you can get to through a hole in the old wall. A short walk leads to a cliff, built into the side of which are remnants of the old watch tower. You can see the southern horizon where soldiers would have been able to view the English army coming up from the south and send warning to the castle to prepare their defences. Free.
Where to stay
There are a few options for campsites in the area, depending of which way you want to travel the next day. There are also some wild camping spots near the University and on the A91 road which leads to St. Andrews (2hrs). See your Campsie Campers sat-nav for for information.
Shopping
Stirling has a number of supermarkets to get your food supplies from. Most convenient for the northern/eastern M9 motorway and western A84/ A811 roads, is Sainsbury's, on the edge of town near the castle. This large supermarket is open 7am-10pm (Sun 8am), has an on-site petrol station and a nice café upstairs with beautiful views of the Wallace Monument. There is also a Tesco superstore near the train station which is good for east coast roads, open until 12am most days. There is also a 24hrs local Spar newsagent on the east side of the town.
Fintry
The picturesque village of Fintry is itself surrounded by beautiful scenery, historic spots, great eateries and even famous filming locations!
Getting there
Campsie Campers offers transfers from Airports and Train stations directly to Fintry. For information on prices and journey times, please see our Getting Here page.
Otherwise, we recommend making your way to Stirling for your transfer. It's in a great location to start your journey and transfers from here are well priced.
Alternatively, from Glasgow Airport you can get the Airport Express bus to Buchanan Street Station with tickets costing £8pp. From here you can get a bus directly to Balfron every hour from £5.60pp and transfers from Balfron are free.
What to see and do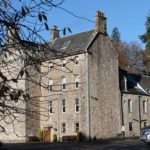 Culcreuch Castle (yes, Fintry has its own castle!) stands in the village of Fintry and is a historical site that housed the Galbraith Clan dating back to the 1300s. When the village exploded onto the landscape in the 18 th century during the cotton mill trade, the castle was closely tied with the surrounding settlement. Set in private grounds featuring a small loch and well-maintained garden, it is now a hotel and restaurant welcoming guests from all over.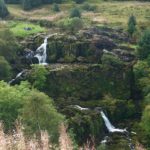 The Loup is a 94ft waterfall pouring down the valley which is a favourite with the locals. A short walk from the road, following a public footpath leads you to a splendid view of this waterfall and the valley beyond. In the height of summer, many locals take a dip in the fresh water pools at the top of the falls. The more adventurous youngsters use the rock slide carved out of the side of the fall, or simply leap from the top to the narrow rock pool below.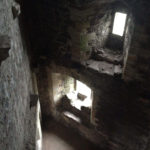 Doune Castle is one of my favourite castles, even before its popularity increased as a filming location for Monty Python, GOT, the Outlander series and Mary Queen of Scots. Lying 30mins from Fintry, it really is a highlight of the area. The rooms are not staged like other castles. Instead this castle offers spiral staircases to watch towers, grand fireplaces and kitchen areas, kooky servants quarters and a labyrinth of staircases connecting the rooms.
Lennox Castle , on the outskirts of Lennoxtown (15mins drive from Fintry) sadly lies in ruins. Built in the 19 th century, this immense structure holds many interesting secrets in its fabric. In 1925, under Glasgow City Authority, it opened its doors as one of the largest psychiatric hospitals in the country. With tales of horror emanating from this period, it finally closed in 2002 and has since deteriorated into ruin. You can access the site through a woodland walk, alongside Celtic FC training grounds. However, the site is surrounded by fencing as the ruins are likely to crumble.
Glengoyne Distillery is the local Whisky distillery just beyond Killearn and was a filming location for Angels Share. This small distillery offers tours and boasts being the only lowland distillery who distils whisky on highland land (across the road from each other).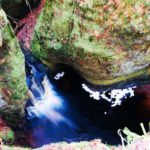 Hidden Gem: Devil's Pulpit, otherwise known as Finnich Glen, was made famous recently as the filming location for the 'Liar's Spring' in the Outlander series. This steep sided ravine is carved through red sandstone rock with green fauna lining the gorge, giving it both a colourful and eerie feel. There is a steep and primal stone staircase that leads to the base known as the Devil's staircase or Jacob's ladder. Whilst there is a small rope to support your decent, caution is advised and do not attempt it in icy conditions. It lies 15 mins drive from Fintry on the other side of Killearn.
Where to eat & drink
Surprisingly, for a village of only 500 people, there are a number of great options for food and drink in and around Fintry.
Knockraich Café is located on a dairy farm just outside the village and is run by the Rodgers family. Katie Rodgers multi-award-winning ice cream and dairy products are notable in their use at numerous high-end restaurants and retailers throughout the country. The café is open through daytime hours and provides fresh dishes and a pleasant atmosphere.
The Fintry Inn is an old country pub on the main street that has a range of good homemade dishes in their restaurant. They also have a wide selection of drinks available and have recently started brewing their own ale. With a welcoming community atmosphere, this is a fine place to introduce you to Scottish charm.
The Fintry Sports Club also has a bar and warm community spirit. It has an excellent restaurant open for breakfast and lunch daily. With its rapid growth in popularity, they are now open on Friday nights for fresh seafood and steak dishes, and Saturdays for pizza (sit-in or take-away). They also offer overnight parking and showers for a small fee.
The Three Sisters Bake is an award-winning family run café located in the village of Killearn. The café boasts glass walls with beautiful country views. With delicious home-baked goods, a deli and boutique crafts, this colourful and light environment is one to treat yourself.
Where to stay
Campsie Glen is the only campsite in Fintry. Whilst a little pricey, they boast a heated swimming pool (in summer), bar & bistro and an idyllic setting next to the river Endrick. Alternatively, you can park at the Sports Centre for a small fee or use our BritStops guide that comes with each campervan to find free overnight locations in the area. There are also a few wild camping spots. Check with Campsie Campers for further advice.
Shopping
When you collect your campervan, the first thing most people want to do is stock up on food supplies. Depending what time of day you collect your campervan and what direction you wish to travel, there are a few options.
If you wish to travel via Loch Lomond on your first night, there is a Co-op supermarket in Balfron which is open until 10pm.
Travelling via Callander and on to the Highlands, there is a Deli en-route which closes at 5pm and a Tesco Express in Callander with parking which closes at 11pm.
Towards Glasgow or the south, there is an Asda in Robroyston which is open 24hrs and has card-payment petrol pumps.
Diesel
When returning your campervan at 11am with a full tank of fuel, there are also a number of options in the area, depending where you are coming from.
Balfron is the closest village to Fintry (5 miles) and is an ideal place to fill up on your return of the campervan as it is accessible from all routes. Esso petrol station, open 24hrs with card payment at the pump.
Kippen is stated as a petrol station on GPS and Google but is solely a maintenance workshop with no working petrol pumps. Beware!
Lennoxtown is 8 miles from Fintry and is ideal if you are returning from Glasgow or the South West coast. Open Mon-Fri 7.30am – 7pm, Sat 9am-6pm, Sun 10am – 6pm, manned shop.
Stirling is 16 miles from Fintry and is a good place to fill up if you are returning from the East coast or from Perthshire/Cairngorms. Sainsbury's petrol station, open 6am-11pm (Sun 10.30pm), shop and facilities available. Tesco petrol station nearby is open 24hrs.
Callander is 17 miles from Fintry and is a good place to fill up. It is en-route if you are travelling from the North-West of Scotland from Glencoe. Follow the A85 from Crainlarich. Esso petrol station, open 6am-10pm (Sun 7am), shop and facilities available at these times.
Balloch is 18 miles from Fintry and is a good place to fill up if you if you are returning from North/West coast via Loch Lomond. BP petrol station, open 24hrs, manned with security drawer for shop after 10pm.
Callander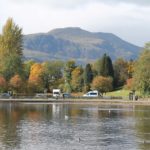 Callander is a charming little tourist town, surrounded by beautiful landscape and pristine lochs. Seen as the gateway to Loch Lomond & the Trossachs and the Highlands, it has lots of amenities. There are a range of artisan ice cream shops, as well as a variety restaurants offering a choice of cuisine.
Getting there
Callander is 30 minutes drive from Fintry on a scenic route through countryside.
What to see and do
Bracklinn Falls are an easy walk from the town centre and offer a nice introduction of what to expect from Scottish scenery. A popular beauty spot with locals and visitors alike, these falls are a relaxed stroll on an adequate footpath to a tranquility.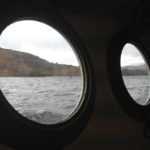 The three-forest drive leads you from Callander to Loch Katrine on a scenic route with laybys to pull over to take your snaps. Loch Katrine sits at the end of this road before joining the Dukes Pass toward Aberfoyle. The landscape and woodland walks surrounding Loch Katrine are fantastic for cycling or strolling at your own pace. This off the beaten-track Loch is well worth a visit, not just for the scenery but for the Steamship, Sir Walter Scott! This 118-year-old ship has been cruising the loch for over a century and has many of its original features throughout the ship. Named after the famous visitor, who wrote about the Loch Katrine, inspiring Victorian visitors and generations thereafter.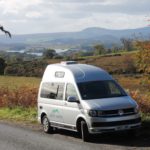 Hidden Gem : Lake of Menteith , yes a lake…in Scotland! It's not, it's a loch but its name changed from Lake of Menteith to Loch of Menteith and no one can be sure why. You can call a boat (by standing on the small pier and waving) that will take you to the island in the centre of the loch. The ruins of Inchmaholme Priory stand impressively on this island. A serene and atmospheric site that oozes history. Mary Queen of Scots was held here as a child for her own safety and this is one of the few records that refer to this site. It is assumed to be built around the 13 th century.
Where to stay
Check your Britstop guide that comes with each campervan for free sites around Callander. Alternatively, there are some lovely wild camping spots in the area that are highlighted on all sat-navs provided with your campervan. Loch Katrine allows overnight parking for £10per night. Loch Lubnaig , north of Callander, provides toilet facilities, chemical waste disposal and have a café on site with permits costing £7pppn, from March to October. There is ample, discreet, off road parking at Loch Earn and permits can be bought online for £3 per van.
Loch Lomond
Loch Lomond is a popular loch which crosses the Lowland and Highland boundary. On the east side is Balmaha which is the main access point for water sports and considered the secret side of the loch. The road ceases at Rowardennan so you are unable to drive all the way around the loch. On the west side is the route that takes you north or west via the Rest & be thankful.
Getting there
Balloch (West side) and Balmaha (East side) are both 30 minutes drive from Fintry.
What to see and do
Inchcailleach is a small island on Loch Lomond with trails, picnic areas and scenic views of the loch, Ben Lomond and mountains beyond. It is the highest of the islands and closest to Balmaha. There is a lovely wooden craft ferry that runs from the pier at Balmaha boatyard to the island. There are remnants of a 13 th century church and lavish plant life to explore. Ensure to take supplies so you can fully enjoy the serenity of this island.
Maid of the Loch is a paddle steamer built that provided voyages on Loch Lomond from 1953. It was decommissioned in 1981 then rescued from ruin. It now sits on the bonnie banks of Loch Lomond and visitors can view inside the ship to have a go at the working steam engine. A group of hard-working volunteers are striving to restore the last vessel of its kind built in Britain to the water and have nearly reached their target. Watch this space!
Where to stay
There are several well-rated campsites around Loch Lomond and even more wild camping pitches . As it is at the centre of Loch Lomond & Trossachs National Park, camping permits are compulsory Mar-Oct and Park Rangers checking permits are abundant. You can buy your permits online and prices vary depending where you choose to pitch.
Always look after the environment and take your rubbish with you to help the Parkies out. Be aware, the area does get very busy in peak season with day-trippers and night owls make their way from nearby areas, including Glasgow (Scotland's largest city) just 15miles away. Be flexible with your plans and find a spot that suits your campervan needs.