Castles Tour
5th January 2020

10 Things to Bring
18th February 2020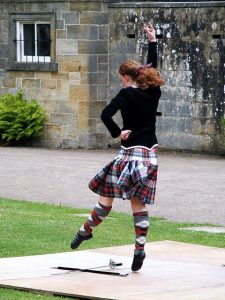 **PLEASE NOTE: Most if not all of these events have been cancelled for 2020 due to the Covid-19 crisis. This will be updated for 2021.**
Experience the cultural celebration of the Highland Games on your campervan holiday in Scotland!
The Highland Games are a tradition to honour Scottish culture. Originating in the Scottish Highlands, these games spread around the world with the Scots during the historic Highland Clearances. Scots set up home in many far away lands but never forgot their Celtic roots.  
The Highland Games feature several activities and national symbols of Scotland. The festivities showcase the kilt, with bagpiping and highland dancing competitions and many sporting events originally demonstrating the sheer strength of the Celts. These include the Caber Toss, an event in which competitors throw what is essentially equivalent to a tree trunk!! 
These Family Friendly events have food and drink stalls, musical performers, competitive athletes and some even have special guests from the Royal Family (see Braemar Games). Originally developed for Clan chief to seek out their toughest men, they now have entertainment and exhibitions for everyone. A true highlight of your campervan visit to Scotland 
The Highland Games are held from May – September in a variety of locations all across Scotland. Here is a list of Highland Games in Scotland for 2020 from local community events to the world's biggest Highland Games extravaganza (See Cowal Gathering).
May 2020


10th May 2020 – 1st Highland Games of the season
17th May 2020
23rd – 24th May 2020
30th May, 2020 – 150th Anniversary year
July 2020


1st July 2020
4th July 2020
11th July 2020
18th July 2020
19th July 2020
21st July 2020
24th July 2020
25th July, 2020 
26th July 2020
29th July 2020
August 2020


1st August, 2020 
2nd August 2020
5th August 2020
7th August, 2020
8th August 2020
9th August 2020 
13th August 2020
14th August 2020
15th August 2020
16th August 2020
22nd August 2020
27th August, 2020
27th – 29th August 2020 – Largest Highland games in the world
September 2020


5th September 2020
6th September 2020
12th September 2020