When to go?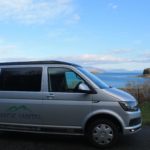 The best time to visit Skye is out-with the peak season. There is nothing that kills your escape to the solitude of Scotland more than busloads of tourists waking you up at serene camping points. Not to mention how the many sightseers have a habit of spoiling those breath-taking photographs you take.
Before my recent visit, I would have recommended May or September as the best times to visit. May, just prior to the high season, is renowned in Scotland as the sunniest month. September also has a reputation for late autumn sunshine, although this is less reliable. The summer crowds will be back at work or school and the people traffic is lighter. However, I chose to take the campervan in the quietest month of November. I have now changed my mind, this is my newly recommended best time of year to visit. It was at times, like I had the whole island to myself. Fantastic!
Getting there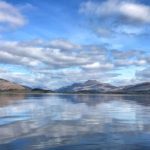 Travelling from Fintry, there are loads of sights to see on your way to Skye so take your time on this tour, particularly if you haven't visited Scotland before. Firstly, we travelled through Loch Lomond and Trossachs National Park . Here you can climb Ben Lomond or take a boat to Inch Cailloch for a tour of the island. There are beautiful parking spots around Inverbeg which give you a glorious view down the loch. Permits are required for wild camping in this park in high season but are free Oct-Mar.
Continuing on towards Fort William, take in the dramatic lighting hitting the hills at Glencoe . Stop here for a cup of tea and walk through this magnificent Glen to soak up the stunning views. Parking can be an issue in high season but for walking enthusiasts, Glen Etive is not to be missed.
A slight detour on the way to Fort William allows you to drop in on the Glenfinnan Viaduct. Made famous for the Hogwart Express steamtrain that chugs along this epic stretch of scenery.
Eileen Donan Castle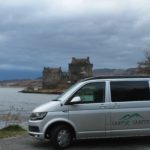 On approach to Skye, stop at Eileen Donan Castle , one of the most iconic images of a castle shared worldwide. The castle sits on a small island on an outcrop where 3 lochs meet. Its history is one of destruction and repair as it was destroyed in the 17th and 18th century Jacobite uprisings . The occupation of the island dates back to 580AD and the castle is named after Bishop Donan from this time. Steeped in history and a picturesque setting, it's worth a visit and an hour or so of your time. Open year round but check out the website for closures for weddings or filming days, especially in winter. Tickets from £7.50 per adult.
Plocton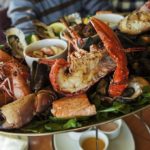 Before you cross the bridge connecting Kyle of Lochalsh to the island, I would highly recommend an evening in the small fishing port of Plocton. Here you can find a coastal spot with good parking facing the coastal inlet and enjoy scrumptious, fresh, locally caught seafood as well as game that is in season. There are many restaurants along the shore offering hand-dived scallops, Plocton prawns and Cullen skink (a creamy Scottish seafood broth). I once was lucky enough to catch the gaming season and enjoy a venison and juniper berry stew, which hands downs is the most delicious thing I've tasted. The Plocton Hotel is currently upgrading their website but the Plockton Inn can give you an idea of the tasty treats on offer here.
Skye
And finally, onto your desired destination of the Isle of Skye. Crossing the bridge at the Kyle of Lochalsh gives pleasant views of the Loch on both sides and is hassle free without having to book a ferry. There is so much to do here, it's hard to decide which direction to go in first.
Carbost
I always like setting off towards Carbost initially. Here, you have the Tallisker distillery with tours starting from £10 and are in close proximity to the Fairy pools.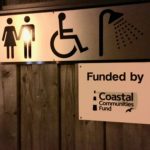 It's also a lovely village to park up and spend the night. If like me, you have chosen wisely to visit in November and out of season, there is lots of choice for parking up. Coastal Communities Fund have sponsored hot water shower facilities next to the water.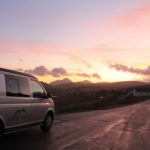 Across the road from the carpark is The Old Inn which offers decent pub grub, live music and a beer garden looking out over the water. Previously, they had such good local seafood on the menu that when I first visited in 2013, the kitchen porter would go back and forth to a small tinny boat on the shore to gather the catch of the day. They had king scallops (the size of which I have not seen since), langoustines, lobster and other tasty treats. However, recently they have a more simplified menu of burger, fish & chips, nachos etc. On speaking with the waiting staff, it seems that they had issues with the local fish farms on the supply of their fresh catch for cuisine. They hope to overcome these issues and have a contract in place to supply fresh fish again in 2019.
During daylight hours, you can experience fresh oysters at the Oyster Shed , a short walk up the hill past the distillery. This means shorter opening times in winter 12-4pm, but longer opening times in summer. Bring your own bottle to experience this divine seafood which proved so popular they have opened another branch in Portree.
Fairy Pools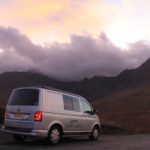 The next morning, I awoke early, despite having partaken in some live music jigging the night before. Being winter it was dark and likely to be dark for another hour. I drove the campervan to the peak of the hill to watch the sun rise and have breakfast. As the stars still shone brightly in a twighlight sky on my right, red colours danced, getting gradually brighter on my left. I felt like I was the only person on the world in that moment. One of the best parts of winter in Scotland is the sky. The moon appears in full mid-afternoon sky and the stars are bright as the sun rises. There is also a chance of seeing the Northern Lights!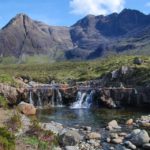 I trundled on. 10 mins drive down narrow country roads towards Glenbrittle. At the foot of the Cuillin mountains lie the famous Fairy Pools . There is a well signposted carpark on the right which is run by the local community so has charges to maintain it. From here you walk downhill, across a river and follow the three, gradual stages of Fairy Pools for a wonderous treat.  Blue, crystal clear pools and waterfalls surrounded by looming mountains giving a magical quality to them. Arrive early to avoid the crowds. Even in the middle of winter I was not alone up there from 8am so you can imagine how quickly it gets busy in peak season.
Silgaghan Bridge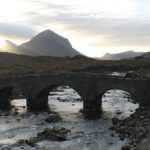 Follow the road back to Silgaghan. There is an old bridge which provides a viewpoint with clear waters running under the bridge and dramatic mountains towering above. The Isle of Skye is steeped in history and mythical tales. Fairies are said to have enchanted the waters under Silgaghan bridge and bathing your face in them brings everlasting beauty.
Old Man of Storr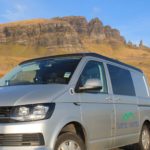 Continuing on towards Portree , the wide roads provide dramatic scenery on all sides. Portree itself is a colourful fishing village with painted houses and quiet shores. Worth a visit if you have time.
15 mins further on brings you to the Old Man of Storr , an iconic mountain with rugged pinnacles and splendid views. There is a small car park at the start point and some wider laybys along the road. Even in November, there was little room to park so again, arriving early or late in the afternoon is advised. A 4.5km hike (2hrs) round trip will provide spectacular scenery and glorious vistas. For walking enthusiasts, you can continue the trail for another 2-3 hrs to the summit of An Storr, past the pinnacles and with views back to the craggy outcrops of Applecross and Rona.
Even more…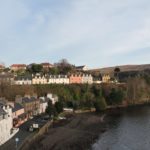 There is more to see further north towards Uig , with Fairy Glen , car parks and cliff walks, white sandy beaches and wild, rugged plains. The west coast and south of the island also provide fantastic views, walks and wild swimming spots, if you are brave enough. Depending how much time you have for your campervan road trip and what time of year you visit, you could spend up to a week on this island and still not see everything.