All sisters, being of a nomadic nature, had travelled New Zealand and Europe extensively as well as numerous countries in between. This was my introduction to the travelling bug and we all set-off on most weekends into the nature and serenity of the New-Zealand 'bush'. We climbed the
Tongariro Crossing
, dug boiling baths at hot-water beach, sat sipping beers in the tropical Kai-iwi lakes and had numerous adventures together. Siobhan always had a campervan in tow but, not being any good with mechanics, managed to travel far and wide, and blow-up no less than 3 vans in her 5 years in the country. This is where the helpful future brother-in-law proved his worth by not only lending a hand in keeping these vans going a bit longer, but also rescuing the damsel from the side of the road when the irreparable head gasket blew.
Scotland
We travelled to Scotland in 2011 to marry in Pauline's hometown of Fintry. I quickly fell in love with the place and the magical surroundings it offered. Getting hitched in a castle was something I'd never dreamed of. Despite, what we kiwis would call a 'cyclone' but the weather hardened Scots would call a 'gale', and the Icelandic ash-cloud hitting us in the days before the wedding, we managed to receive all our guests from around the world in relative good health, if not a little flummoxed by their travel adventures (some had been diverted to London and had to bus up from there). Not put off by the warnings of the weather Gods, we proceeded to get married in a traditional ceremony with haggis on the menu and some ceilidh dancing.
Less than a year later (9 months to be exact), we welcomed our first child, Jade to the world. Born in New Zealand, with family and friends to support us, she became the apple of our eye and my determination to provide a magical childhood for her became my only focus. Having run a successful, international business with my partner, Pauline and I began investing in property and moved around a lot in those first few years. We were lucky with timings on the property market in NZ and bought and sold several properties, renovating each by hand as we went. When in 2014, our son Peter was born, we began putting the wheels in motion (so to speak) to move to Scotland. We sold our business share, sold our house, packed a whole bunch of unnecessary items, along with timeless keepsakes, and set off for Scotland.
Campervans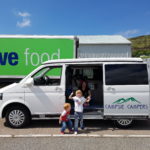 The first thing we did when landing was to purchase our first campervan , Lassie. She was a fully converted, self-contained van with ample space for us and our 2 wee ones. We set off on a 4-week tour of Europe, taking in all the sites, with an obligatory visit to Euro Disney. We were delighted with the campervan itself and couldn't wait to adventure machine with others. We learned oodles on this journey and kitted the van out with all the necessities such as front privacy window screens and levelling ramps to allow more wild camping pitches. We learned what to expect from camp-sites and became a member of the Camper and Caravanning Privilege Scheme UK so our clients could receive discounts of up to 25%. We also discovered the French company which inspired Brit-Stops , a free overnight parking guide that is sponsored by local businesses such as whisky distilleries and joined this on our return.
Inspired by the success of one van, we then bought another two VW T6s (Scotty & Robbie) and hired ' 8 ball campers ' to convert them for us. Having a wealth of experience in construction and building trade, I was fascinated at how these conversions were done. 8 ball campers provided excellent conversions with all the fixtures and fittings you could ask for. I then decided to take on the challenge of converting one myself. This, I have to admit, was priceless fun. I spent all winter with my tools on a very satisfying project. Proud of my achievement, I converted a T6 High-Top (Jimmie) which joined our family in July 2018.
New Fleet
Our business is continuing to flourish, with clients from all over the world who are happy with our personal and attentive service. Siobhan joined our team in August 2018 and is bringing her creative experience from the film industry to showcase our fabulous vans . We have just added 3 Peugeot Boxers to our fleet and will be converting them ready for hire in 2019. These vehicles, whilst straying from the VW fleet, have standing room height, will be 2-berth, have all fixtures and fittings that come with the VW plus they will be fully contained with bathroom and kitchen facilities. We are designing the interiors personally and are looking to include a 'Rustic Charm Van', a 'Bachelor/ette Van' with all mod cons and the third to be decided. Follow us on social media for competitions to help us name the vans!
We are delighted with the progress we have made so far and how quickly we have settled into life in Scotland. Whist I truly miss Aeoteroa (The land of the long white cloud), I am immeasurably happy in my new home of Scotland (the always cloudy land).